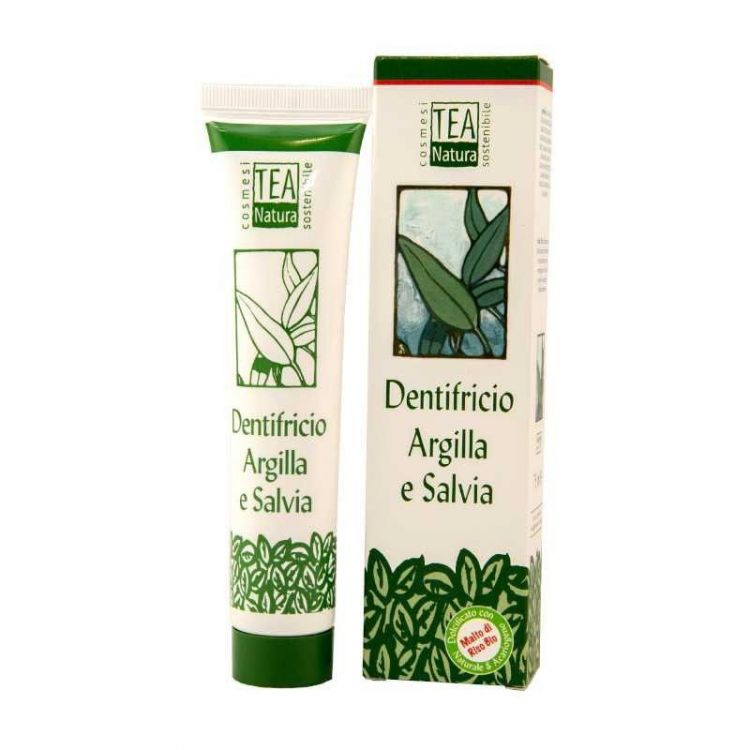 
Toothpaste Clay and Sage
No reward points for this product.
This Clay and Sage Bio Natural Tea toothpaste helps to preserve healthy teeth and gums protecting them from the aggressions they may suffer. They are completely organic and natural.
In the ingredients of toothpaste were selected the most effective natural elements for this purpose:
- white clay: thanks to its complex mineral composition, it strengthens tooth enamel;
- whole sea salt: with its trace elements, it tones the gums and has a disinfectant action;
- brown rice malt: it has a sweetening action;
- Sage essential oil: plant traditionally linked to oral hygiene, it has an aromatic action and strengthens the gums;
- anise essential oil: it has a softening and calming action;
- essential oils of myrrh and tea tree: they perform antiseptic and sanitizing action on the oral cavity;
- Yucca vera: rich in vegetable saponins, it ensures the slight foaming action of the product;
- olive oil: it has an emollient action for the gums and slightly polishing the teeth.
Non-foaming properties, without sweeteners or artificial flavorings, this toothpaste is the most natural alternative to traditional oral hygiene products.
Clay and Sage toothpaste TEA can also be used while taking homeopathics.
It does not contain preservatives, synthetic perfumes, dyes, animal ingredients, SLS and SLES, artificial sweeteners.
INCI: Aqua, Solum Follonum, Maltose, Calcium carbonate, Glycerin, Yucca Vera Extract, Olea Europeae Fruit Oil, Xanthan Gum, Salvia officinalis, Maris Sal, Illicum Verum Fruit /Seed Oil, Commiphora Myrrha Oil, Melaleuca Alternifolia Leaf Oil, d-Limonene. VEGANOK certified product. 100% natural and recyclable packaging.
DIRECTIONS FOR USE Use the product as a normal toothpaste; For best effectiveness, we recommend using the product several times a day, after the main meals.
Toothpaste Clay and Sage: Customer reviews

No opinions at the moment